John
Director
John is the Company Director. Having founded the company in 1978 John has worked tirelessly to maintain high standards, quality and integrity in all works undertaken.
Jude
Environmental
Jude is our photovoltaic and environmental specialist. Jude has a background in environmental studies (BSc) and over his many years with the company has gained a wealth of knowledge and qualifications. He now specialises in renewable energies and photovoltaics.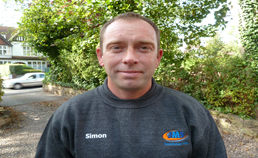 Simon
Project Manager
Simon is our project manager. Simon has over 20 years experience with the company and holds a multitude of skills making him a competent project manager a well as our on site first aider and health and safety controller.
Dave
Resources
Dave is resources manager. Dave has worked for the company for over 4 years his work ethic is commendable. He operates as facility resources and transport manager.
Our office manager is Ann. As well as being the voice of the company Ann deals with all company policy and regulation, ensuring all services and guarantees are fit for purpose. Ann also deals with all paperwork and legislation related to government schemes for the customer.